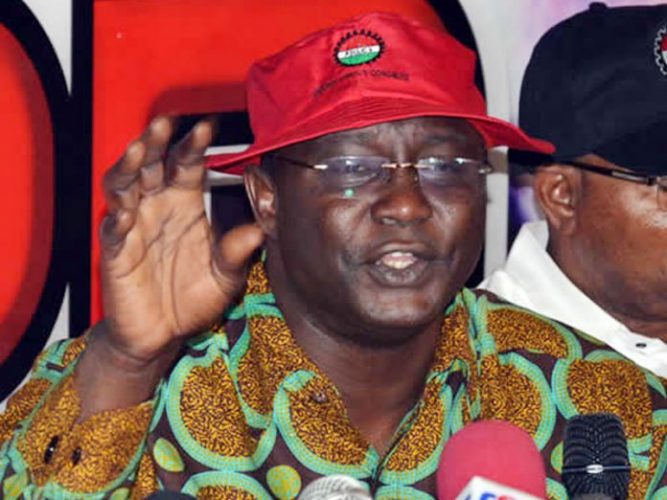 Apart from declaring a state of emergency, the NLC also called on the government to look for refineries closer to Nigeria as a way of reducing freight cost of fuel.
In a statement, the President of NLC, Comrade Ayuba Wabba condemned the current fuel price of N168 per litre and cakked on the government to reverse the increase.
The increase, according to Wabba was against what labour had agreed with the government during negotiations following the increase.
He said that the state branches of NLC have been asked to find out the current prices in their areas to know how government has kept with the agreement to enable labour decided on the next line of action.
He said the rising fuel price has led to more poverty with increasing inflation.
According to the statement, "The government should also demonstrate the will to stamp out the smuggling of petroleum products out of Nigeria. We need to see big-time petroleum smugglers arraigned in the court of law and made to pay for their crimes against the Nigerian people.
"The government has the resources available to it to ensure this economic justice to Nigerians. The question in the minds of many Nigerians is if the government is willing to go headlong against major financiers of the major political parties that are known to the public as the architects of the current national woe.
"We also demand that Nigerians should be carried along on the distribution of refined petroleum products. Information on the distribution of petroleum products to petrol stations should be advertised and made public knowledge. It should not be difficult to establish the average time it takes a petrol station to exhaust its supplies."
Fuel prices have been selling at N170 per litre in some states in the North and South East.
In Lagos, fuel sells for N168 per litre after the petrol stations had tampered with the metres.
However, the Minister of State for Petroleum, Mr. Timipre Sylva, Monday argued that the removal of fuel subsidy was the best thing to happen as it favoured on the elite against the poor in the country.